Servicing Your Commercial RTU With Affordable Air Repair
---
Affordable Air Repair is a leading provider of commercial rooftop unit HVAC services in Conroe, Texas. Our team of experienced technicians is dedicated to providing high-quality, reliable services to our friends and neighbors in North Houston. We specialize in the installation, maintenance, and repair of all makes and models of commercial rooftop HVAC systems.
Our team has extensive experience in the industry and takes pride in their work, striving to provide the best customer service possible. We understand that our customers depend on us for efficient, cost-effective solutions, and we go above and beyond to ensure their satisfaction. Whether you need a new installation or repairs on an existing system, Affordable Air Repair is the best choice for all your commercial rooftop unit HVAC services in the Montgomery County area.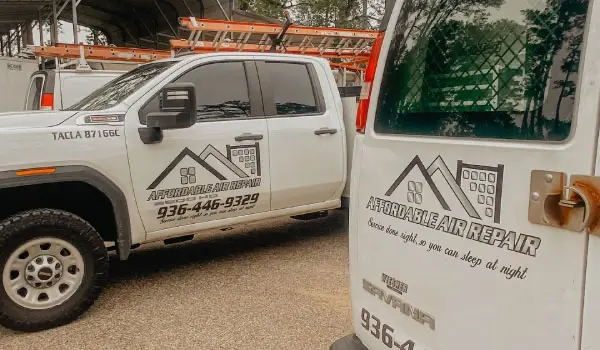 Does Your Commercial Rooftop Unit Need Regular Maintenance?
Your business's HVAC system plays an essential role in ensuring that your commercial space is heated and cooled effectively while maintaining optimal air quality for the comfort and health of your employees, customers, and yourself. From basic comfort to health and safety, your heating and cooling system is a big part of everyday life in your commercial space. Although it's sometimes easy to overlook or forget scheduling regular maintenance on your RTU, it's crucial to keep your system compliant and running smoothly.
Commercial RTU maintenance services from Affordable Air Repair make it easier for you to stay on top of maintenance with a professional and enjoy the peace of mind of knowing that your system is operating at its best. Here are four great reasons to schedule regular maintenance on your commercial rooftop unit with Affordable Air Repair:
1. Improved Efficiency: Regular maintenance from Affordable Air Repair can help keep your commercial rooftop unit running at maximum efficiency. This means you'll be able to get more comfort out of your unit, while using less energy, resulting in lower energy bills.
2. Reduced Repair Costs: Regular maintenance can help identify and address small problems before they become bigger, more expensive issues. Calling your North Houston pros at Affordable Air to schedule regular maintenance can save you time and money in the long run.
3. Longer Lifespan: With hot summers and cold winter weather in the Montgomery County area, you'll want your commercial RTU functioning at its best for as long as possible. Regular maintenance helps ensure that your commercial rooftop unit is running optimally and can significantly help extend its lifespan.
4. Better Air Quality: When running a commercial space, providing good air quality to your employees or customers is extremely important. Scheduling proper maintenance regularly on your commercial RTU helps to keep the air in your building clean and healthy, resulting in a better overall environment for the people in your commercial space.